Designed for maximum protection of your big game rifle, this case is made from the very finest saddle leather and completely encases the gun. Lined with an exclusive man-made sheepskin that is breathable and non-reactive to gun oil, it will protect the gun blue as well as the stock finish. The heavy duty brass zipper is double nylon stitched and virtually indestructable. 1-1/4-inch saddle attaching straps give you an added degree of safety and durability. This scabbard will conveniently fit inside most hard cases for travel. A detachable leather grip enables this scabbard to be used as a rugged year-round gun case. Designed to fit any position on your saddle. Rated a top product by Guns & Ammo Magazine.

Read the article here.

Price: $595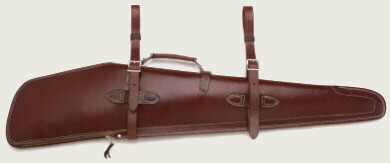 S-2 Shown with 1-1/4-inch saddle attaching straps











Same scabbard as S-2 - cut for larger 50-56 mm scoped rifles
Price: $650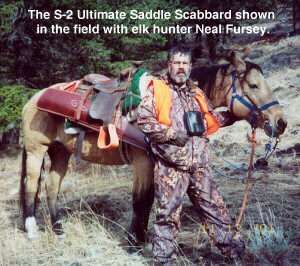 Same scabbard as S-2 - cut for Shotguns and
Sharps type rifles Price: $650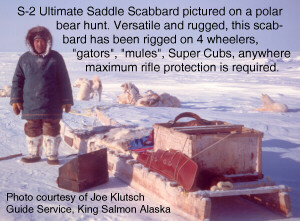 Cut from one piece of heavy saddle leather and designed for a scoped rifle, this scabbard features a unique fold-over flap that protects the scope and action from rain, debris, etc. The flap locks down with a buckle instead of a snap to better retain your rifle. This case is double nylon stitched throughout with copper rivets at all stress points and 1-1/4-inch saddle stitching straps for added strength and safety. A detachable leather grip gives this scabbard even more versatility.

Unlined $375
Shearling Lined $450


Same scabbard as S-1 - cut larger for 50-56 mm scoped rifles

Unlined $425
Shearling Lined $500


---

Dick,
Just wanted to let you know how happy I am with the scabbard I purchased from you.

I bought the scabbard for a moose hunt in BC this year and it really performed well. The detachable handle was a very useful feature. I was able to use the scabbard for a soft carry case and then remove the handle while it was attached to the saddle. The straps for attachment are very thick and positioned very well for three different saddles I have attached it to and I wasn't worried that my expensive rifle would be torn off by trees or brush. The leather is some of the nicest looking and thickest I have seen for a scabbard. It really is a work of art that works very well.

Thanks and I will be purchasing other items in your line soon!

Rocky Gerber
Operations Manager
Centennial Contractors Enterprises, Inc.

Scabbards & Slips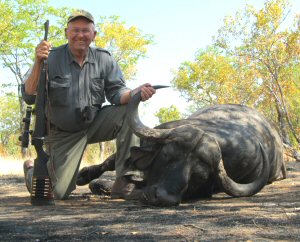 © Copyright MurrayCustomLeather.com



Designed for quick access while traveling in a hunting vehicle, these scabbards are made from heavy saddle leather and lined with soft chap leather with a padded "grip" opening. Made to fit scoped rifles or shotguns. Tie down straps included. Available in one or two gun versions. Two gun Jeep Scabbard pictured.

Optional detachable nylon hood $125

2 Gun Model Price: $1095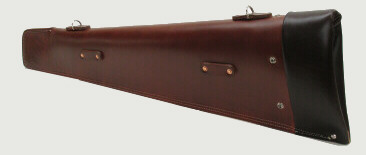 1 Gun Model Price: $550





S-9 Jeep Scabbard with
optional nylon hood attached







Designed and made to hang from your hunting vehicle's roll bar screen ("mule" or "gator" type). This unit offers maximum protection and quick accessibility. Made of heavy saddle leather, fully lined with top grain boot leather with a padded "grip" collar, and double stitched throughout. This case will give you years of service. Tie down straps included. Available for rifles and shotguns in one or two gun versions.

Two gun Full Length Jeep Scabbard pictured.

2 Gun Model Price: $1,095
1 Gun Model Price: $550
Optional Zippered Hood: $100




S-13 Full Length Jeep Scabbard with nylon hood attached







Full length, end flap opening designed for your side-by-side or over/under. This case is a re-creation of the turn of the century style and is a time proven winner. Adjustable shoulder strap, hand grip,hanging loop, and lined with our exclusive man-made fleece. Made from the finest saddle leather or durable boot leather. Double stitched throughout. Also available for some scoped rifles.

Price: $650









For rifle or shotgun. Made from lightweight chap leather or real waterproof canvas. The slip also protects from dust and the abuse of metal gun racks. Folded it will fit in a coat pocket and has proven to be one of our handiest accessories.

Price: $175



Hey Dick!
Back from a successful elk hunt in Montana and very happy
with my new scabbard! I got a number of back-handed
compliments about my "pretty scabbard" and how they sure
hoped it wouldn't get dirty, but 10 days later everyone wanted
one. Under the TOUGHEST conditions my scabbard did
its job and protected my rifle and scope. You can't ask for
more than that!

Thanks much!
B.G.B.